westbank
Stay at the Best Western Plus Westbank
HOTEL BLOG
Welcome to the Best Western Plus Westbank hotel blog. Feel free to catch up on our hotel news, learn a little about Harvey, Louisiana and discover festive annual local events. We want you to always be in the know when you stay with us!

Back
Top Outdoor Activities in New Orleans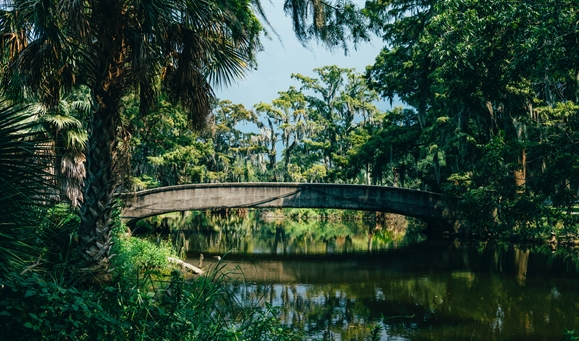 Image by Susan Yin
Planning a trip to Nola? While you're probably going to spend some time exploring the city's world-famous food and music scenes, there are also plenty of outdoor activities to enjoy in the area. Biking, having a picnic, and going golfing are three activities that are musts while in New Orleans. Not only are they outdoors, which makes them relatively low-risk during the pandemic, but they will show you a different side of the city. Keep reading to discover our top three outdoor activities to do in New Orleans this summer.
Have a Picnic
New Orleans is bursting with Southern charm, which makes it the perfect spot for a romantic picnic. There are parks all over the city, filled with picturesque ponds and old trees covered in Spanish moss. Some of our personal favorites include New Orleans City Park, Audubon Park, Woldenberg Riverfront Park, and Crescent Park. In addition to endless green space, many of these parks also have bicycle lanes, jogging paths, picnic tables, and city views.
Go for a Bike Ride
With over 100 miles of bike lanes, New Orleans is one of the best cities in America to go for a bike ride. Whether you wish to navigate your way through the historic French quarter, or take a scenic ride along the Mississippi River, this is one city you'll want to explore on two wheels. There are lots of places to rent bikes or even book bike tours, such as Arts District Bikes.
Hit the Links
If you're a golfer, then you'll surely love the incredible courses that New Orleans has to offer. Not only is the area home to the Zurich Classic (part of the PGA Tour) that is played annually at TPC Louisiana, but it has plenty of other public courses that are ideal for visitors. Two of the most popular are the Bayou Oaks at City Park - North Course and the Audubon Park Golf Course.
If you wish to explore all that New Orleans has to offer, then you'll want to book a room at the Best Western Plus Westbank. Just a short distance from some of the best outdoor attractions in the city, we combine award-winning service and top-notch amenities with an unbeatable location.

Back
Recent Post
September 05, 2020
Things to do
From the Audubon Louisiana Nature Center to Jean Lafitte National Historical Park, be sure to take a stroll through these parks while visiting New Orleans.
March 13, 2020
Things to do
Prev Post
Next Post