TOP
events
Stay at the Best Western Plus Westbank
EVENTS & THINGS TO DO IN NEW ORLEANS, LA
If you have always wanted to attend world-famous events such as Mardi Gras, the French Quarter Festival, JazzFest or the Allstate Sugar Bowl, the Best Western Plus Westbank Hotel is one of the best places to stay in New Orleans. There are plenty of places to visit in New Orleans, yet people tend to come from around the world to attend fun and festive events such as the Ponderosa Stomp Festival, Voodoo Experience, Tennessee Williams New Orleans Literary Festival, Essence Music Festival, New Orleans Jazz & Heritage Festival and more!
When it comes to New Orleans points of interest, we have an array of exciting attractions to visit, including The National WWII War Museum and The Louisiana Children's Museum. If you have a passion for golf or football, don't miss out on the Zurich Classic or Bayou Classic while you are here. Or see spectacular Independence Day firework displays at Go 4th on the River and sample unique cocktails and learn about the world of mixology at Tales of the Cocktail, held during the summer season. Take a look at some of our favorite attractions below and feel free to contact us at anytime for more information on the local area.
Those who love the thrills of gambling can enjoy over 23,000 feet of gaming space, including roulette, slots, blackjack and table games. Don't miss out on the all-day breakfast, live entertainment and chef specialties at the Clearwater Café while you're there!
Enjoy interactive food and wine experiences and tastings, get schooled by top wine professionals, participate in the Royal Street Stroll and indulge with intimate wine dinners at this annual festival held in New Orleans.
Visit the NOLA Tropical Winery where you can sample rare and fine wines that are not made with grapes! These wines are created with citrus and tropical fruits, as well as hand-selected berries and have won a variety of awards in international wine competitions.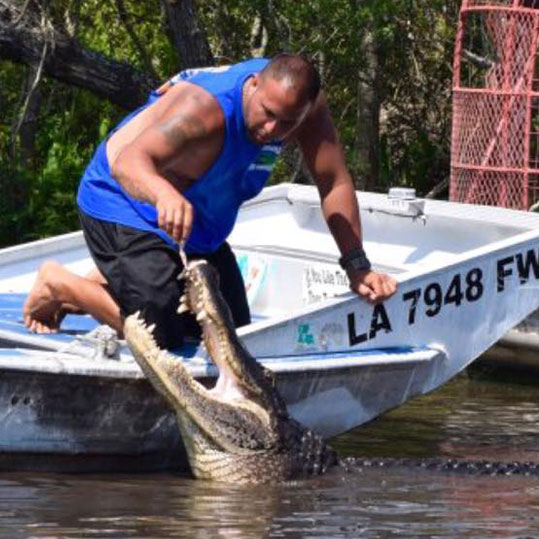 Take a tour boat through the Barataria swamps where you will be able to spot gators, snakes, birds, fur animals, turtles and more! As you sail, you'll see a 2000-year-old Indian Burial Mound, an old Fishing Village and a Cajun cemetery along the way.
This annual music festival is one not to miss! In celebration of legendary Jazz trumpeter Louis Armstrong, this event is usually held in early August on the grounds of the old New Orleans Mint, which is now part of the Louisiana State Museum. There are multiple stages with various jazz performances and loads of activities for the entire family to enjoy.
Presented by the non-profit organization, New Orleans Film Society, this annual festival is held in mid-October and features over 200 short films and international feature films, as well as artist talks, pitch competitions and fun parties.